Send Inquiry
Synthetic Basketball Court Flooring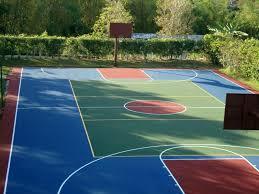 Synthetic Basketball Court Flooring
Product Code : 053
Brand Name : ASIAN
Synthetic Basketball Court Flooring
Synthetic Basketball Court Flooring is provided by us as per the needs of the customers. Our product is widely known for their availability in accurate dimensions and in various sizes. Synthetic Flooring for Basketball Court is the playing surface, consisting of a rectangular floor with tiles at either end. In professional or organized basketball, especially when played indoors, it is usually made out of a wood, often maple, and highly polished. Outdoor surfaces are generally made from standard paving materials such as concrete or asphalt.
Features:
Strong construction

Superior quality

Extremely durable
Features:
Easy maintenance

Rough and tough to use

Durable
Dimension:
Length of a basketball court: 94 feet (1128 inches)

Width of a basketball court: 50 feet (600 inches)

Size of a basketball backboard

Width: 6 feet (72 inches)

Height: 3.5 feet (42 inches)

Size of a basketball rim

The diameter of the rim is 18 inches

The top of the rim should be exactly 10 feet (120 inches) off the ground

Distance from the backboard to the back of the rim 6 inches
Use of Materials:
Rebound Ace / Unica: 3, 5 and 8 Layers
"We are mainly dealing in Maharashtra and Gujarat."